MARCH 6th 2012
Well Hello again You Lot!
I hope you have been enjoying Olga's chatting on Facebook! Make the most of it coz he is gonna be off on tour soon!
OK, first up… The recent 'Guess The Guitar Solo' competition. It was a bit of a toughie, and out of a whole pile of answers only 3 of you were completely correct!
Anyway, Olga put the names in a hat and picked out Laura as the winner! Well done to you! Unfortunately I have tried to e-mail you for an address but have got no reply yet! So if you are reading this Laura from please get in touch (using the same e-mail address you entered with) so I can get Olga to send off your prizes!
And the correct answers were:
- the sphinx stinks
- carol dodds
- alec's gone
- geordie's gone to jail
- when you're Jimmy Saville
- idle gossip
- she'll be back with Keith someday
- worse things happen at sea
- taken for a mug
- she's a leech
---
Here are your latest Ask Olga answers...
The latest guitar lesson...
And OLGA TALKIN' has been updated!
---
Gigs!
So, the gigs are now starting to come in for 'The Tour After The Last One'!
Most shows after Spain will be festivals until the end of the summer, with the club shows (starting in October) most likely to begin in Belgium and Holland. Watch this space! The festivals are still coming in, so brace yourselves for a quite a few more!
Note that the Punk Rock Holiday Festival in Slovenia on 18th August will also feature The Amazing Mr. Duncan AKA Duncan Redmonds! Doing an acoustic spot on the 17th! Sounds wicked!
Here are a few flyers from the festivals:
---
New Backline Technician!
So following the departure of The Toy Dolls amazing backline technician Matzi last year, the lads had a great stand in tech, Arne, for the 2 gigs in 2011, thanks loads to him for being a great help, and for being such a nice guy.
Now we see the arrival of Keith! Keith has been a professional backline tech for many years, mainly working with Teenage Fanclub and Martin Stephenson and the Daintees. Sadly he didn't go on to better things, hence working with The Toy Dolls!
This is the guy you will see on stage before the gig, checking all the equipment, placing drinks & towels in place etc etc. He is also responsible for tuning the instruments, changing & stretching strings, and most other stuff to do with the backline (amplifiers/drums n' stuff)
Good luck to him, and welcome!
---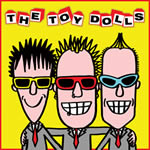 The Album After The Last One!
So, this month also sees the release of the new album... The Album After The Last One!
If you have any difficulty getting yer hands on a copy, you can get it direct from www.secretrecordslimited.com
Or if you are in Spain, try here.
Let us know what you think of it!
---

Olga has asked me to tell ya that the new backdrop will be making its debut in Barcelona on 4th May!
If there's time next updates, Olga will do a couple of Ask Olga video answers too.
Meantime the lads are hard work at rehearsals, good luck to them! And here's to a
GIG FULL 2012!
Until next month.
TTFN
Ciaron