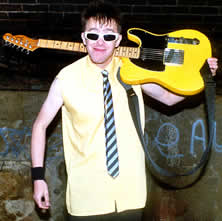 Hello and welcome to the guitar section of the website where we hope to give you the skills required to play a selection of TOY DOLLS rhythms, riffs, lead breaks and bass runs.
Your teachers will be none other than Olga, the king of the 6 string, and the 4 string marvel Tommy Goober!
That's right! Learn from the masters and impress all your friends!
We're always after suggestions for songs to teach ya! So if you've got any requests please get in touch .