October 12th 2009

Good Autumn Day to you lot!
Lets get straight down to business! All your answered "Ask Olga" questions are here. Keep ya questions coming in, it keeps Olga kinda sane (ish!), other than writing the album 24-7!
And, your latest guitar lesson is here, enjoy!
Hey, Tommy Goobers other band VANILLA POD have just released an album 'Poets on Payday' on Boss Tuneage Records. You can listen to the track "Walk of Shame" using the media player to your right. It features Olga on lead guitar on the first section and the guitar solo, although i'm sure I don't really need to point out when Olgas instantly recognizable guitar playing appears! Anyway, have a listen, its quite tasty! The tracks is also on VP's MySpace page too if you're having problems with the player, and you can check out all their gig details too. Just click here to check it out.
Tommy has also pointed out that he is on the case with some more bass lessons! Watch this space!
Duncan has recovered from jet lag after his stint in Japan with his band Duncans Divas, and recording with his other band Billy No Mates. Duncan is even doing a string of acoustic shows, and various Snuff shows following his success at Leeds and Reading!
Yeah, Yeah, I hear you say! What about Toy Dolls news!?.....
20th October 2009 marks the 30th anniversary of The Toy Dolls, oh sorry, I will shut up and let you read the Olga Talkin' section! I just wanted to point it out!
Well, we have some rough outline news on next year, best to hear from the man himself! Click here to find out more.
I will sneakily put up this ancient pic of Olga and his band "Straw Dogs" in 1977! Just to make him feel even older than the 21 he already is!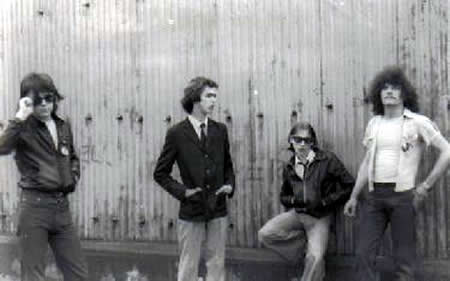 From left to right: Pete Zulu, Olga, Flip, Mac.
Tickets are are selling fast for the French tour so you'd better get your skates on if you don't wanna miss out. We know a number of you are going from the UK for various shows too, thank you! Gonna be great to see you all again!
There will be new merchandise available exclusively for France/Switzerland, more news/pics on this on the next updates. The official Webshop merchandise will be updated soon too.
Anyway, check out the Olga Talkin section, he will tell ya whats going on! 2010, wow, looks exciting…..
Until next time
TTFN
Ciaron