November 2009



Greetings from Toy Doll land!

So, the French / Swiss tour is just around the corner, you lucky lot! Let us know how the shows go! Unfortunately I cant make it to any, bah…

Exclusively for the tour there will be T shirts available only at the shows. They will have the French and Swiss tour dates on the back, and will will include girlie shirts too.
| | |
| --- | --- |
| | |
| | |
The webshop has also been updated, check it out here.
Heres ya ASK OLGA answers, and Olgas latest rockin'guitar lesson.
We have some breaking news that The Toy Dolls have been added to the bill at the fantastic PUKKELPOP festival in Belgium in August 2010, it's a 3 day festival, and as soon as we know what date the lads will be performing we will let ya know!
Our little Olga with his ever faithful yellow Telecaster, will be joining Ginger (Wildhearts) on stage for 2 songs at the Garage in London on 17th December for Gingers birthday show, a number of other special guests will be getting' up too, sounds amazing! But don't rush for yer tickets, its already sold out!
So, enjoy yerselves in France & Switzerland! Good luck to the lads, I know they are busy at rehearsals for the tour, and I know they cant wait to get out there again!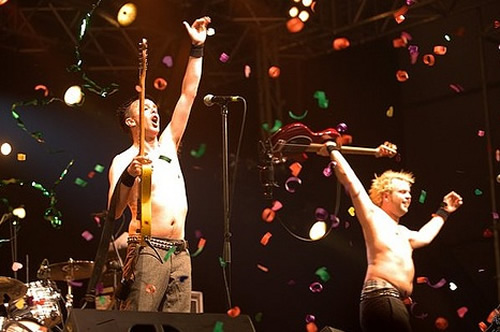 TTFN
Ciaron