April 2nd 2009
It cant be April already surely!?
Wow, it is! Festival season coming up thick n' fast!
As we mentioned a few weeks back, the lads are gonna make a number of festival appearances throughout 2009, the set wont actually have stuff from the next album, (this will happen when the album is released, don't worry!) but will, instead, feature some golden oldies which you lot have been requesting! The lads have been hard at work rehearsing what they used to play all those decades ago!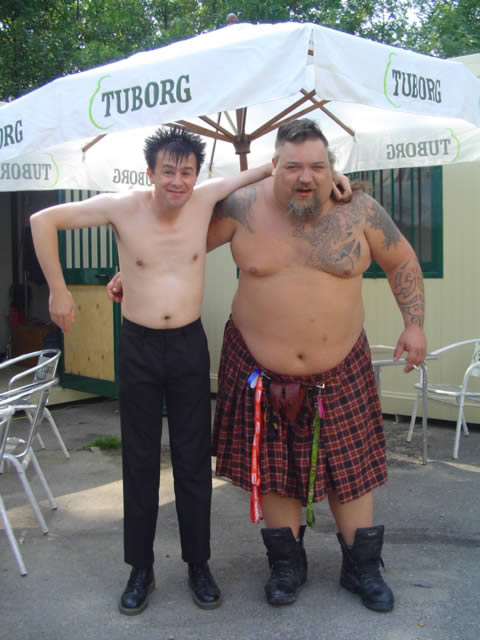 Meantime the album is taking shape nicely thank you! More news on this soon!
Talking of festivals, heres a pic of Olga with Txiki the trumpet player from the great band SKA-P at a recent festival, whichi have been meaning to put up for while (Olga is the guy on the left incidentally!)

So, as we said earlier, Olga is busy writing as usual!

Tommy Goober has also been busy recording a whole batch o' new songs with Goober Patrol.

The Amazing Mr Duncan is not one to sit around either! He has a string of shows lined up with his band 'Billy No Mates' and is also playing acoustic shows! and he will be performing with his band 'Snuff' too at 3 shows with NOFX in Birmingham April 24th and London, May 2nd and 3rd. Phew!
We have updated the tour dates section, now you can click on the show, this will take you through to the gig/festival website with full details, take a look here…
More festivals are on their way, so keep checking the dates!
The latest batch of your Ask Olga questions are answered here.

And finally, before we go, here's another guitar lesson from the man himself, enjoy!
Have a wicked time at the festivals, I envy ya all!
More news next time!
TTFN
Ciaron