February 2007
LONG TIME NO TALK!
First up, unfortunately we have to announce that the USA tour has been put back a bit longer. It will happen, ( I know we keep saying this!) but due to various contractual agreements, its gonna be a few more months before anything takes shape, our apologies, we really cant wait to get there!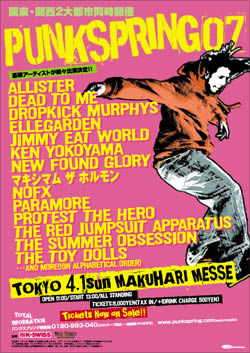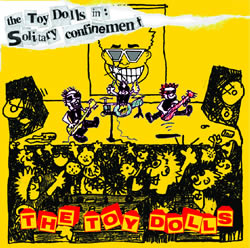 Right, swiftly moving on to good news!

I guess you would have noticed the new Japanese website! Finally you lot in Japan can enjoy the latest Toy Doll gossip along with the rest of us!

Talking of Japan! Japanese record company SOLITARY MAN RECORDS will be releasing Treasured Toy Dolls Tracks with a difference! The sleeve will change a little, and the album title will be The Toy Dolls in Solitary Confinement.

The wildest difference will be the addition of a message from Olga in Japanese, plus 5 acoustic tracks from Olga's bedroom! including 2 Japanese cover versions, sung completely in Japanese!

The release is planned for the end of March, to coincide with the PunkSpring festivals where the lads will performing. You can find the dates here.
And talking of acoustic tracks! On April 2nd, The Amazing Mr Duncan and Olga will be doing an unplugged acoustic set in the heart of Tokyo, at The Nakano Moonstep Pub. Duncan and Olga will be performing a selection of Snuff, Billy No Mates and The Toy Dolls songs, on acoustic guitars!!

Wild or what! get me a ticket!
Not to neglect the terrific Tommy Goober, here's Tommy's latest bass lesson!
All your latest Ask Olga questions are answered here
And now, for the most important Toy Doll news of the century! A statement from Olga...
I really think you oughta check this out, especially if you live in the UK!
I am stilled stunned after reading it! Oh, and very happy too!
More festivals are being added as we speak!
Other things happening on the Toy Doll front:

Tommy has confirmed shows with Goober Patrol at Norwich Arts Centre on March 17th, and with Vanilla Pod March 9th at Norwich King Edward V11.

Duncan has a string of Billy No Mates gigs throughout Feb and March, and a show with SNUFF at Rebellion Festival on August 11th!
Until next time!
TTFN
CIARON