December 2006
Well hello you lot!

Wintertime is here in England, and the miserable cold dark nights are with us once again. Thank God we have our ever upbeat trio with us to keep us from becoming too melancholy!
So, as you may know, the lads are just back from Brazil and Argentina, playing to packed houses every night like this: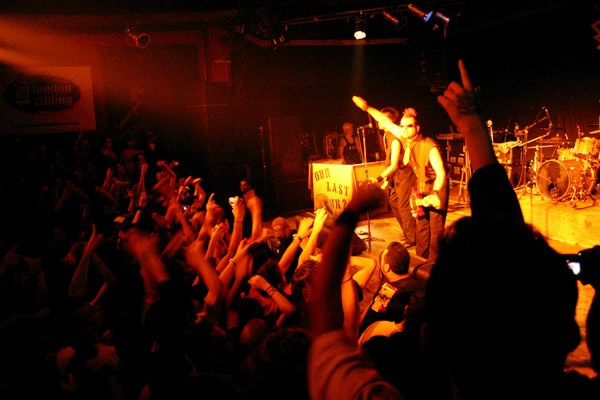 And here's Olga as a celebrity guest on MTV in Brazil!

Here's two links to the lads playing live on MTV:

http://www.youtube.com/watch?v=Vmgd-eN1DXI&mode=related&search=

http://www.youtube.com/watch?v=jALMGLVp48A&mode=related&search=
While we're talking videos we've got the next episodes of Tommy and Olga's bass and guitar lessons, check 'em out here.
Since the lads returned from South America, The Amazing Mr Duncan has been on tour with Less Than Jake, Dropkick Murphys and Living End with his band Billy No Mates (does this guy ever sleep!?), Tommy Goober has been doing one off shows with Vanilla Pod, and Olga has spent most of his time answering your questions here!
So, whats next!?
The lads will be playing the final dates of the Our Last Tour? tour next year, this will take in the USA and Japan. USA is taking a lot of planning and we are still waiting for confirmed shows, but they will be in the first half of 2007.
Two shows in Japan have now been confirmed at the PunkSpring festival in Osaka and Tokyo, see more here.
Punkspring is a HUGE festival with many big names, so you lot in Japan should get your tickets asap!
And while we are talkin' Japanese...
The Toy Dolls Official Japanese website will be up and running very soon!

Following the final dates of the Our Last Tour tour, the lads have started adding new dates which will feature a fantastic new set, with some great old favourites in there. Another huge festival has been confirned in Sweden on 3rd August, see more here.
Most of 2007 will consist of summer festivals, before the lads take a well deserved break to finish writing/rehearsing and recording the next album! Our Last Album?? Who said that!!!
Seems that Olga is happier than ever with the current line up and has no plans to retire, EVER!
More news coming your way soon!
Until next time!
TTFN
CIARON