20th January 2012
The band would like to express its condolences at the passing of Sir Tom Cowie, who died on 19th January, aged 89.
Sir Tom was highly instrumental in shaping the modern city of Sunderland, particularly its football club and its university.
Fans of the band will know the 1980 song 'Tommy Kowey's Car', a work based on this much-loved local celebrity.
Our thoughts are with Sir Tom's family and friends.
17th January 2012
HAPPY NEW YEAR YOU LOT!
The new album, "THE ALBUM AFTER THE LAST ONE", will be released in the UK on 19th March 2012.
Other countries will follow shortly after that. More details when we get them.

STOP PRESS!
THE TOY DOLLS NEW ALBUM "THE ALBUM AFTER THE LAST ONE" WILL BE RELEASED IN SPAIN ON 20th MARCH ON MALDITO RECORDS! Click here!
---
BACK IN 81!
You have to see these pics sent in by Billy Gilbert, shot in Newcastle upon Tyne in 1981! Olga, Flip & Happy Bob!
Well worth checking out!
---
ASK OLGA answers are here!

And the OLGA TALKIN section has just been updated, Olga speaks a bit about the new album & stuff!
---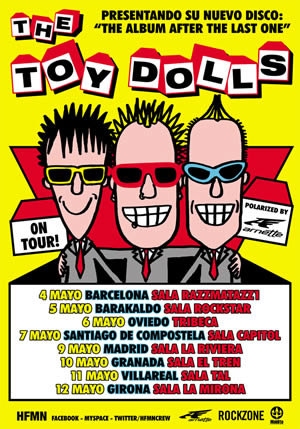 SHOWS!
The gigs are starting to come finally!
As soon as more are confirmed you will see them here first.
First confirmed are the Spanish gigs, but there's also a confirmed festival in Germany on 26th May!
We can't announce details just yet so stay tuned!
Brace yerselves for a lot more shows in 2012!
---
COMPETITION TIME!
The Prize:
Olga's very own 'signed' 2004 last tour backstage pass
And a selection of Toy Dolls badges.
The Question:
Download this MP3 and name the 10 Toy Dolls songs (in order) that these guitar solo snippets are taken from!?
They are very short, so you'll have to listen extra carefully!
Answers cannot be accepted after January 30th so get them in quick!
Your answers should be sent .
---
AN ALBUM WITH A DIFFERENCE!
Remember this guy?

http://www.youtube.com/watch?v=Wb1Le2z_VVo

Well, he is playing on the track "Marty's Mam" on the new album, but not only that…..
...later in the year he is gonna be releasing a full album of Toy Dolls songs played classical style!! Wicked or what!
We'll have more details and a release date soon. The album will be called, tada...

"CLASSIC TOY DOLLS"
We will get you a track listing soon too! I can't wait! Of course meantime we mustn't forget about 'THE ALBUM AFTER THE LAST ONE" !
Keep checking in!
---
Before I sign off this month, I have to say that there were a few other things that we were going to bring you in this round of updates, but due to a number of tech problems and computer meltdowns over Christmas we've not been able to make this happen. Rest assured though, normal service will resume as soon as possible :0)
TTFN Ciaron