26th November 2011
Happy Winter time you lot!
Well, this is probably the last update of the 2011... Roll on 2012, which promises to really be a total Toy Dolls year!
---
OK, first up, the correct answers to the latest competion are:
1. What are the real surnames of Olga, Tommy & Duncan?
Olga is: ALGAR, Duncan is REDMONDS & either BLYTH or GOOBER would be acceptable for Tommy.
2. In what year was the album "Dig That Groove Baby" originally released?
Dig that groove baby was originally released in 1983.
3. Which Toy Dolls ex drummer now plays with Ritchie Blackmore?
The ex Toy Doll drummer playing with Ritchie Blackmore is Dicky/Malcolm Dick.
4. In which North East UK town was Olga born?
Olga was born in the North East UK town of South Shields, or Marsden would be acceptable too.
5. What make of bridge pick-up does Olga have fitted on his yellow Telecaster?
Olgas pick up is a Seymour Duncan.
The question that most people found difficult was question 5! Just to point out, a pick-up is the guitar microphone, not the pick guard.
There were a whole load of entries from all over the globe! And a load of correct answers so Olga has had to put the names in a hat and pulled out the winner…
And the winner is…
Rob Snoeren from Holland
Yer prizes are now on their way to you! Well done!
Just to point out that the prizes will come separately. The backstage passes will come direct from Olga in London, and the shirt will come from Belgium.
---
Ask Olga is updated here…
And yer latest guitar lesson is here…
---
Rather in keeping with this month's guitar lesson here is a terrific cover version by Joanna Wang.
---
Somehow Olga managed to find time this year to play guitar solos on 2 tracks on the new album "WASTED ON YOU " by North East band LOADED 44.
Check out Drop the Bomb here, a nice track with a nice Olga solo!
---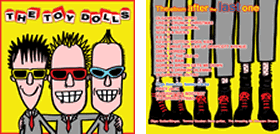 So, you might have well heard, the lads have released "CREDIT CRUNCH CHRISTMAS" as a taster to the new studio album "THE ALBUM AFTER THE LAST ONE".

The single is available as a digital download only on iTunes. Grab yerself a copy today, it's totally BRILLLLLIANT!

The album itself is gonna be released in UK in March 2012, and other countries will follow shortly after that. Full details here soon naturally. For now though here's the front & back covers for ya as a teaser!
---
OK, looking forward to 2012 with the new studio album and gigs gigs gigs... Our Last Tour? Who said that?!
This will be The Tour After The Last One and proves the lads are definitely not gettin' too old for this! Ignore what Olga says!
Have a very Merry Christmas and a great new year, see you lot ready to rock next time.
2012, Bring it on!
Ciaron
Just before I sign off though, I will leave ya with this.. Olga made a quick vid on his phone of the backing singers singing a few seconds of CREDIT CRUNCH CHRISTMAS for ya! Brill stuff.