7th October 2011
Hello You Lot!
Ok, straight down to business!
Yer latest guitar lesson is here!
And yer latest ASK OLGA answers here! Unfortunately, with Olga being in the recording studio over this period, he wasn't able to do any video answers, but they will make a welcome return very soon.
---
The new album...
I can tell you that Olga is very happy the way things are going in the studio recording the much awaited new Toy Dolls album!

It's scheduled for a Spring 2012 release (more precise details soon), and the title will be... *drum roll*......
"THE ALBUM AFTER THE LAST ONE"
No prizes for guessing that one!
Check out the OLGA TALKIN' section here for a full update of the recording, direct from the studio from the man himself!
Heres a couple of the latest pics from the studio.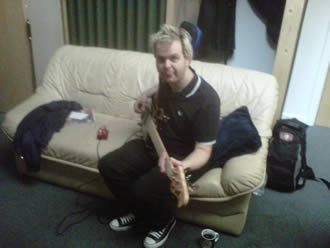 Tommy Goober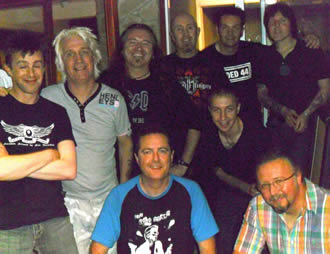 The 'Oi Mob'!
Back row: Olga, Decca (Angelic Upstarts), Steve & Ian (The 4 Kinnells), Dave (Loaded 44), Billy (Chelsea / Penetration).
Front row: Ronan (Toy Dolls biographer), Lee (Crashed Out), studio engineer Fred.
---
Cheers again to all of you again for your continued support at the Olga Telecaster campaign MySpace page. I will point out that this page has been set up independently, and not by Olga or any Toy Doll related folk! So if you need any answers re anything, www.thetoydolls.com is the place to send em!
---
A huge thanks from the lads to everyone at the two festivals in Spain recently, Madrid and Santiago, fantastic to get back out there again! And a big thank you to The Specials for being such gentlemen, as well as a great band!

Heres a small rough clip from the Madrid festival:
---
So, whats next!?
As we mentioned before, The Toy Dolls management are now arranging the 2012 shows. As soon as we have confirmed gig news you will be the first to hear about it, but it looks like the shows will start late April early May time.
There's still another month of recording and mixing the new album but I will persuade Olga to put up a couple of tracks when its all done! That will definitely be worth waiting for!
COMPETITION TIME!
Ok, first off, the prizes:
One of the wonderful new "People Design" T shirts, (please state your size and colour you would like) check them out here…
Also, Olga's very own signed back stage pass and artists booklet from the recent Spanish Envivo Getafe Festival!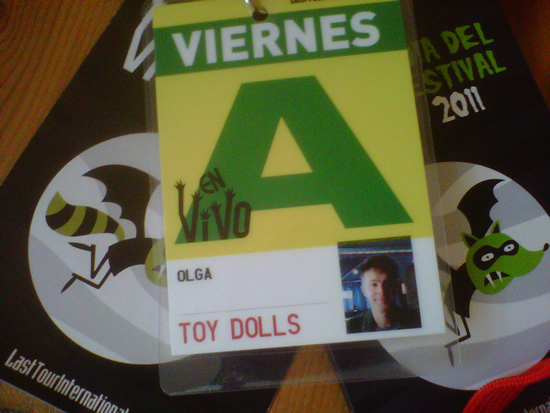 If there's more then one correct answer, then your names will be put in a hat and pulled out randomly!
We reckon, with this being such a special prize, that the questions should be a little more difficult than previous competition questions!
So, here we go:
1. What are the real surnames of Olga, Tommy & Duncan?
2. In what year was the album "Dig That Groove Baby" originally released?
3. Which Toy Dolls ex drummer now plays with Ritchie Blackmore?
4. In which North East UK town was Olga born?
5. What make of bridge pick-up does Olga have fitted on his yellow Telecaster?
The competition will close on November 20th, and you can send your answers .
GOOD LUCK!
---
Facebook.
Finally, Olga has set up an official Toy Dolls Facebook page! Welcome to the 21st century Olga!
Olga has asked me to ask you to give him a bit time to get his head around it all, and he will start adding stuff as the weeks go on!
Check it out and give him some support, he needs it! I know he is kinda old school and flapping about it it all!
Until next time
TTFN.
Ciaron.