1st September 2011
Hello again you lot!
Very brief updates this time around!
Because the lads are crazily busy recording the new album there's no Ask Olga Video answers this time around, but don't worry, they will make a welcome return next month!
Anyways..here's yer Ask Olga answers.
And yer latest guitar lesson.
---
Olga tells me the guitars and drums are now complete in the studio... and he is very happy! Tommy Goober will be laying down all the bass parts as we speak! We hope to keep you posted on the progress!
Here's a few pics taken in the studio over the past few weeks.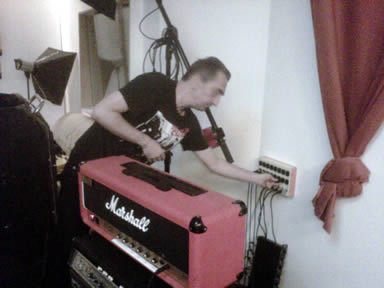 Adie (sound engineer) setting up Olga's lovely Marshall JCM 800 2203.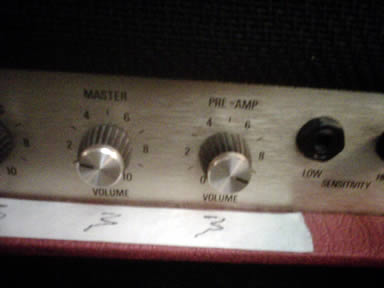 Close up of the pre amp and master, Olga's settings.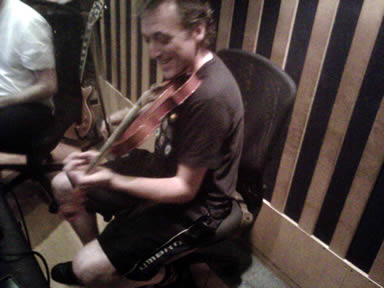 Duncan fiddling about on "Draycott Avenue"!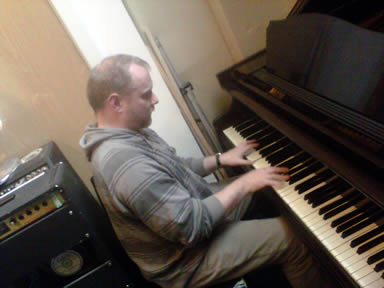 Guest appearance of piano player "Ern" on B.E.E.R.
---
Good luck to the lads on the two Spanish festivals on 9th and 10th September, full details here..
I know the lads are itching to get out there again! Gonna be extra knackering for The Amazing Mr Duncan though, he will be returning from a tour of Japan with his band Snuff on 7th, then flying out to rehearsals in Madrid on the 8th! Where does he get the energy?!
Talking of shows… drum roll................
This is not set in stone, but following the release of the new studio album (Spring 2012), its likely the first leg of the tour will be in Spain in May, followed by as many festivals as possible leading onto tours of Europe in the late summer/autumn & winter. Japan will probably be slotted in there somewhere also.
This is just a rough outline, anything could happen, and as soon as we start getting confirmed shows you will hear about it right here!
---
Next time we should have actual album title and release date news!
All a bit vague at the moment I know, please bear with us!
More news soon!
TTFN
Ciaron