14th June 2011
Hello again You Lot!
We miss you! But as the lads pointed out, 2011 will be extremely quiet on the live front while they concentrate on recording the new album.
Our trusty trio will be in the recording studio FINALLY! From June 20th, first up will drums and rhythm guitars, I have asked Olga to take plenty pictures n' stuff! We will keep you updated of the progress, drums and guitars will be recorded in West London at Unit 2 studios, I will do my best to get there to check how things are going! Good luck to the lads, its about bleedin' time!
Olga has told me there's gonna be 4 unplugged bonus tracks of Toy Dolls golden oldies too featuring Olga on acoustic… I can't wait to hear them!
---
Once the recording gets underway, the Toy Dolls management will start to look at shows, which will be in 2012, as soon as we have news of any gigs you will be the first to hear! And of course news of the album title and release date!
---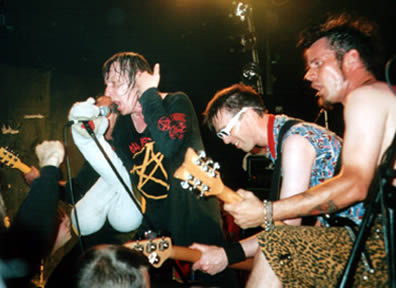 Talking of shows, our mates "THE DICKIES" will be touring Europe next month.
Click here for their show dates! You will probably see our little Olga in the crowd at one or two o' them too!
Here's our guitar hero on bass with the Dickies a few years back.
---
Because of rehearsals/recording etc, there's no guitar lesson this month... BOOOO! I know, I can hear ya! No video ASK OLGA answers either, double BOOO! These will both return next month after the first batch of recording sessions are completed, don't worry!
You can however find your written answers to this months ASK OLGA questions here.
---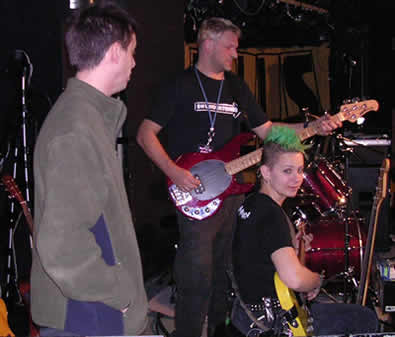 On a sad note, we have to announce the departure of The Toy Dolls long standing backline technician/roadie "Matzi".
Matzi has been working with the band for the past 7 years, she's the one you see before shows, frantically sticking down set lists, placing towels and water (and Olgas stage gum) on stage, checking and tuning the guitars, testing microphones and drums and a thousand other things…
Well, now she has decided to call it a day, she has made the bands life considerably easier on the road and will be greatly missed, we do wish her the very best of luck for the future.
Meantime, we miss you Matzi!
Matzi pictured here with Olga, and Bernie (Sound man/tour manager).
---
Ok, moving forward…
So, as you probably know there's only ONE show planned for 2011! Get there if ya can!
---
There will be some new T shirts for the show, which will also be available on the webshop from August.
The shirts will also be available in girlies, there will be 4 colours to choose from, khaki & steel blue for the guys and sky blue & pink for the girlies.
A really great little design this time, featuring loadsa Toy Doll song characters!
Here's a pic of the front and back of the guys shirts.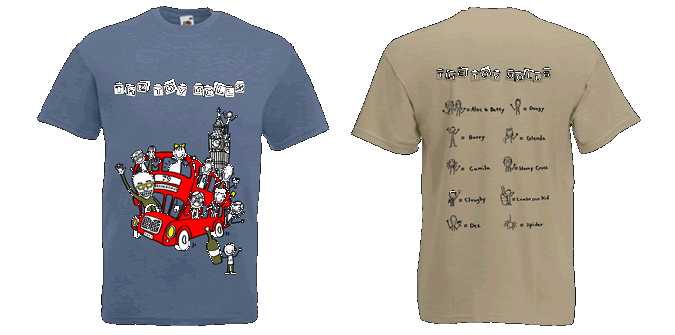 I want one now!
---
So, good luck to the lads in the studio, and cheers to you lot for hanging around! We will keep you updated!
Meantime, check out this vid of the lads performing in France a few months back...
TTFN Ciaron.