16th April 2010
So, The live gigs begin this weekend!! Why do I have to work!? I envy you lot sometimes!
Best of luck to the lads in Girona, its been over 4 months since the last live show, and Olga tells me both he, Duncan and Tommy are craving to get going again! The lads will be arriving in Barcelona airport about 10pm and rushing straight off to rehearsals until the twilight hours!
Unfortunately we have ran out of Olga's guitar video lessons for now! However, our slim friend has promised to get across to record another batch sooooon! Watch this space!
Meantime, here's your ASK OLGA answered questions.
Oh, and don't forget to show your approval at the Signature Telecaster for Olga site here.
The lads are still rehearsing songs for the new album, and as soon as they are fully practiced we will have a recording schedule for ya!
COMPETITION TIME!
First of all, just to let you know, there will be new t shirts available at the shows starting this weekend. These 30th anniversary shirts will be exclusively for the live shows ONLY!
They will be available in girlies too...
The back print on all the shirts looks like this --->

So, on to the competition! The prize being one of the above shirts plus 2 of the new extra large buttons featured in the website shop.

And the questions are:

1. NAME ONE OF THE SONGS FROM THE NEW , YET TO BE RELEASED, TOY DOLLS ALBUM?

2. WHERE WAS THE TOY DOLLS FIRST EVER SHOW IN SPAIN?

3. NAME ONE OF TOMMY GOOBERS AND ONE OF THE AMAZING MR DUNCANS OTHER BANDS?

Send your answers here and PLEASE STATE YOUR T SHIRT SIZE! We cant promise, but we will do our very best to send the winner the correct size! The winner will be announced in May's updates next month.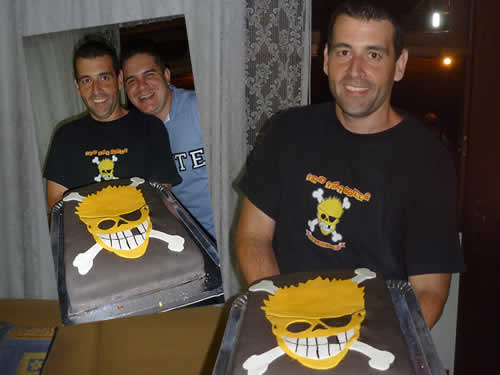 And just before we leave, how about this birthday cake that Marcello from Brazil got last December? Cool eh? I hope he's saved us enough to go around!!!
More news soon and keep checking out those tour dates!
TTFN
Ciaron