Happy Spring time to ya all!

All quiet on the Toy Dolls front, eh? Well, not as quiet as it may appear! Olga is well underway working hard on the next album every day, ya can read his news here.

Our favourite Bass player, Tommy Goober has been doing gigs with his band Goober Patrol and Vanilla Pod. Check out Tommy's Goober Patrol MySpace. Some nice tunes on there for ya all!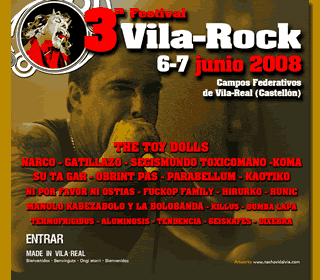 The irrepressible Amazing Mr Duncan has just returned from totally rockin shows in Japan, with his new project DUNCANS DIVAS! Check em out here.

Duncan also has gigs lined up with Billy No Mates, and even an acoustic show with himself, Frankie Stubbs and TV Smith at The Grosvenor, Stockwell, London 29th March.

Alongside this, Duncan has just written and recorded a song for Japanese band 7th Tarz Armstrong, the track also features our own little Olga on guitar! More news on this soon.

Oh, that reminds me, click here for your ASK OLGA answered questions!

As for live shows this year, catch em while ya can! There wont be many due to the writing of the album, click here for the latest tour dates.

Here's a link to the Spanish festival on 7th June

Finally, news regarding the opening of The Toy Dolls official merchandise shop...

T-shirts and badges will be available for purchase to begin with when the site opens within the next 2 months. We will let you know details in the next round of updates!

Thanks to all of you for continuing to send in your Toy Dolls pics, there will be a huge picture update soon...

Bye for now from Toy Doll world!