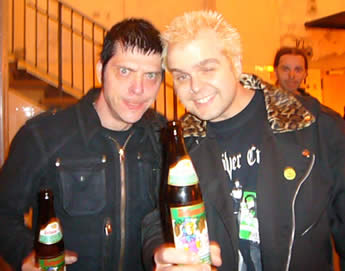 Greetings from a rather flooded England!

So this is supposed to be summer eh? Never mind, we still have our trusty trio rockin out for ya across the globe to keep ya in high spirits!

First up, here's a pic of our very own Tommy Goober with Bernd, of the Beatsteaks.

Next, Kerrang magazine are hosting awards for best band, live band etc, the voting finishes in late August, so get ya votes in fast! Vote for The Toy Dolls here.

Two great festivals in Holland up next, 2nd and 3rd August, where the lads are dying to get back to! Check the tour dates.

Then the HUGE long awaited Augustibuller Festival in Sweden on 4th August. Some great bands on there, including Casualties, Discharge, and the truly magnificent Anti Nowhere League, and tons of others….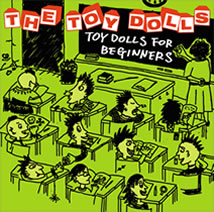 Solitary Man Records in Japan are releasing a 6 track best of mini- album to coincide with the Japanese dates, half a dozen tracks voted for by Japanese Toy Dolls fans, especially aimed at new TD fans, and entitled TOY DOLLS FOR BEGINNERS.

The tracks are all original recordings and re-mastered in Tokyo.

Full details (in Japanese!) at Soiltary Man.

Hey, and check out the wicked Japan tour flyer below!

This fortchcoming German festival promises to be a corker too!