December 22nd 2005
A QUICKIE!
Just to let you lot know that loadsa things are being arranged for next year, as we speak! Lots to tell SOOON!
Meantime, HAVE A GREEEAT CHRISTMAS! and THANK YOU for all your nice compliments about this section, I really appreciate it.
Cant wait to see ya in 2006!...God, I will be 29 again next year!
Take Care!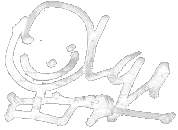 December 13th 2005
Hey you lot! hope yer all well! first off I wanna say cheers for all yer emails to the Ask Olga section, there are still a number of questions I have still got to answer from the past 2 weeks, don't worry, they will be up with the next website updates!
Wasted Festival London Astoria 11th December 2005.
So, sunday afternoon I met up with Mensi, Lee, Chris & Mick from The Angelic Upstarts, in a pub in near the Astoria, great to see the lads again!
My plan was not to drink so much that night, and not to mix me drinks!
Anyway after a couple o pints of stout we headed off to the gig. There I bumped into Arturo from 999, I had missed them sadly, apparently they were very good, will catch them next time for sure.
So, next up were the UK Subs, nice to see Charlie again too, he was rockin as usual. Excellent!
After a few cans of Red Stripe in the Upstarts dressing room, I met up with with the rest of the Angelics, Gaz, Dickie, and my old mate Decca, and a very old mate, Max Splodge, wow, he is lookin well, ain't seen him for 25 years!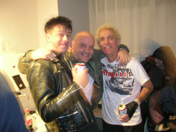 Olga, Mensi & Decca Wade, Just one beer! Upstarts dressing room. >>>
I met up with Stretch( Splodge's manager) for the first time too, an all round nice guy.
Next up were the Upstarts, the sound was great and they were on form, brilliant stuff, shivers down me spine when they played last night Another Soldier, Liddle Towers and a string of other classics.
After a few more Red Stripes with Mensi and the lads, I missed whoever was on next!
Back stage I met up with The Saints, as they were heading for the stage. The Saints had supported THE TOY DOLLS a few months ago in France.
2 good songs, Perfect Day and I'm Stranded, but for me that's it, not my favourite band in the world to be honest! Nice to meet up with lads again though.
After another 3 cans of Red Stripe with The Dickies in their dressing room, I went out front with Lee to watch the lads put on one hell of a show, 2 weeks on the road had resulted in the Dickies being the tightest band of the night, The lights and sound were fantastic. I loved every minute of the show, I will never get tired of this totally unique, brilliant band.
After the show and even more Red Stripes, I chatted with Knox (Vibrators) and Leonard, in the Dickies dressing room.
Unfortunately I didn't get to see The Dickies at the very end of the night, I will say though, that I will miss them for sure, even writing this I feel kinda emotional, touring with this great bunch was one of the most special times in my musical life.
And so to The Rezillos, I think probably the best sound of the night, but they had a hard act to follow after The Dickies mega performance!
I really like The Rezillos, though tonight wasn't the best I have seen them, It was gettin late and me ears were becoming sore! still, I will say that Jo Callis is one of the best punk guitar players around, twas great to meet up with them after the gig too.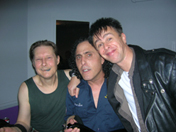 3 wise guitar men!? Jo Callis, Stan Lee, Olga. Rezillos dressing room. >>>
A good night in all I thought, a highlight for sure were The Can Can girls, I am sure most of you lads who there will agree!
I never made it to their dressing room, unfortunately!
The night was young, so after downing a couple o cans of Guinness, (the Red Stripe was proving a bit hard to swallow) Me, Chris, Mick, Decca, Lee and load of others decided to go to great bar down Denmark Street, across the road from the Astoria, there we met up with Charlie Harper and the lads from UK Subs, I couldn't face more beer, so now I was on the wine!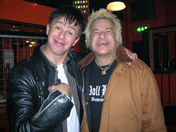 Olga and Charlie Harper (UK SUBS) down the pub again! >>>
After 2, 3, or 4 more white wines it was 4am! and now we had the munchies, we were famished! so with Daz Russell (Wasted festival promoter) we headed off for a Chinese meal, I guess ya could call it breakie!
I cant even remember what we were drinkin at this point!
6am saw us leaving the restaurant, Lee and the lads got the early tube back to their hotel in Kings Cross, while Decca headed off to the airport, private jet I guess! back to Newcastle.
Suddenly I was alone on the tube, bound for St.John's Wood, I was wrecked, I had a great night, with great friends and great people, I had also met quite a few of you lot at the gig, and everyone seemed really nice, great to meet ya.
Of course I fell asleep on the tube and missed my stop, anyway, I arrived home at 7am! and after a quick wash, I hit the sack! and now I sit here with a poundin headache and feelin queasy, writing this for you lot!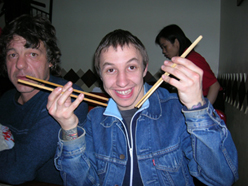 >>> Lee Wright, (Angelic Upstarts and Crashed Out) Noodles for breakie!
I just got a text message from Lee , saying he was back on the beer, my God! how can he face more drink!? still, I'm just a Toy Doll and he's an Angelic Upstart!
Speak soon!
Take care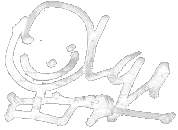 December 10th 2005
Just to remind you lot, at The Astoria in London tomorrow (11th Dec) is the Wasted punk Festival.
Bands that should not be missed are: UK SUBS, 999, MENACE, ANGELIC UPSTARTS and of course THE DICKIES and THE REZILLOS.
Oh, while I am in the plugging mode! You have to check out Peter and the Test Tube Babies new album, Peter sent it me yesterday, and I haven't stopped listening to it!! you will love it, its called "A FOOT FULL OF BULLETS" great stuff.
Anyway, I will be meeting my old mates, The Upstarts and The Dickies, before the show tomorrow for a pint or two! cant wait, hope to see some o you lot there!
So for now, take care, remember, all kindsa TOY DOLLS news coming your way in the new year!!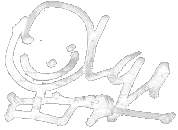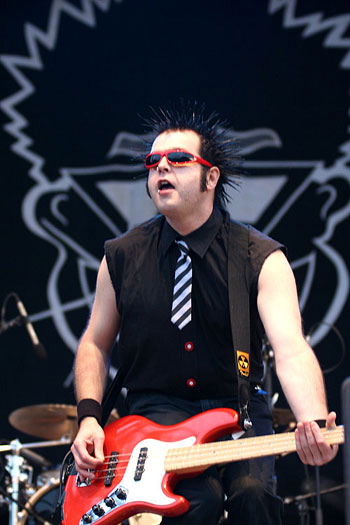 December 5th 2005
Hey! JUST A QUICKIE!

Please check out The Dickies on their Euro tour, they have a greeeeaaat new line up! Outstanding! God I miss playing with them.

And, just to let you lot know, there's gonna be loadsa Toy Doll news in January, just you wait! your email and the Lambrusco Kids gigs have got me itchin to play again! THANK YOU!
I am actually in hospital all next week! Holby City, BBC1, English drama! it will be aired sometime in Jan 2006, I never watch it meself, but its some dosh towards some new stage clothes!

Anyway, I will be with The Dickies (not performing) if you wanna buy me a pint you are welcome!
Ciaron has told me the Updates & Ask Olga section will be up very soon, A HUGE THANK YOU to him, a fantastic guy who does a fantastic job, I am sure you agree!

here's a pic not yet seen by you lot!.....

Tommy Goober, rockin as usual! with borrowed bass, Germany 2005. >>>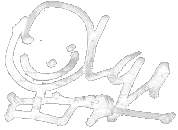 November 29th 2005
HEY YA ALL!
FIRST OF ALL I WANNA SAY A HUGE THANK YOU to The Lambrusco Kids, and especially to you lot at the gigs in Brazil, we had a wonderful time, its was so nice getting to meet ya all after the shows! thanks for being soooo super friendly!
Sorry it has taken some time to get this up for ya, I have been just so busy! Cheers for the mountain of emails to the Ask Olga section, I am answering them now! they will be up with the website updates very soon!
BRAZIL, THE DIARY!
So! here's where it started on 10th November 2005, I leave my home in NW London.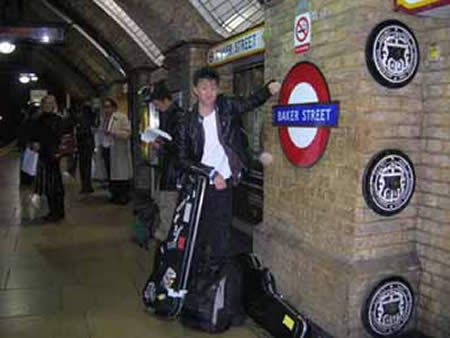 OK, First step, tube to the airport, Baker Street - Paddington - Heathrow! >>>
As usual, I check in 4 hours too early, I cant stand being late for anything or anyone, though I can be a bit extreme from time to time! anyway, me two Telecasters were now checked in and I could relax, of course I headed for the pub! I was feelin rather nervous, actually going to play with a band I had not even met!
My first flight was to Zurich, this is where I met THE TOY DOLLS guitar technician Matzi, she had checked in a whole load of guitar spares, strings, wireless systems etc . Now was time for another drink I thought! 4 or 5 glasses o' wine later we were well relaxed for the 12 hour journey we had ahead of us!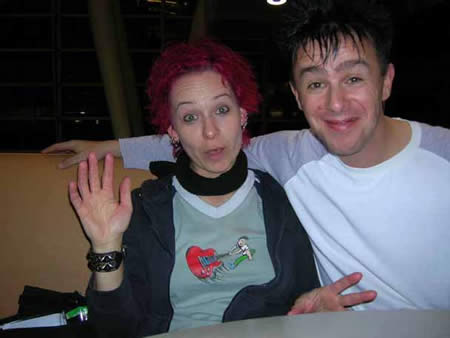 Happily relaxed and ready for Brazil! Matzi and Olga in Zurich Airport >>>
The flight to Brazil left on time, around 10pm, an overnight flight meant we could get a bit o shut eye, after a few more drinks! before landing in Sao Paulo at 7am local time the next day.
We didn't sleep well, the plane was doing somersaults for over an hour! and after 10 glasses o' wine mixed with anti-mosquito infection pills, I was feelin rather queasy to say the least... HOWEVER, we were both so really anxious and lookin forward to meeting the band, and itchy to begin rehearsals!
As we stepped out of the door of the plane, there stood Marcio! (Lambrusco Kids singer) he greeted us with a beaming smile that put us in good spirits, after picking up our baggage, we drove to the hotel for breakie! not so hot, maybe about 25c, a nice temperature we thought!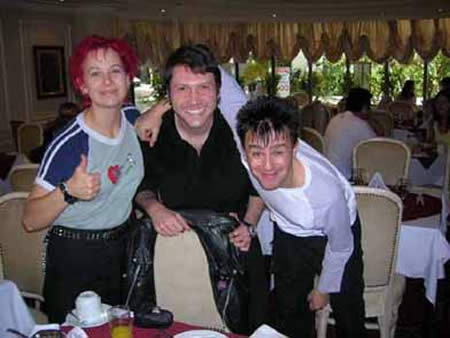 At the hotel: Matzi, Marcio (lambrusco Kids), and Olga, just in time for breakie! >>>
We were delighted to find we had Jacuzzis in our rooms! wow, not usual I tell ya! so after 2 hours soaking we met to do a string of radio shows/interviews on the afternoon, the temperature had risen to 29c now!
After dinner we were wiped out! one more drink in the hotel bar was enough! the next day was the start of rehearsals...
So now was 12th November, I was down in the hotel lobby 1 hour too early 9am, ready to get stuck into the practice!
Rehearsals began at 10am, what a greaaaat rehearsal room, air conditioned and with a nice sound system, a million miles from Peter practices practice place for sure! (of which we will always have fond memories)
So I meet the lads for the first time, there's a sense of nervousness amongst everyone, especially me!
We started from the top, the sound was dire, Marcio had actually found me a Marshall JCM 800, but it was not a good one, but what can ya do!? we practiced and practiced, eventually getting the sound balance sorted, things were coming together, the band, lovely guys by the way, had done their homework for sure, this made things a whole load easier!
Having played THE TOY DOLLS songs 100000 times over the past 26 years, I was eager to start practicing the cover versions! we practiced and practiced and practiced even more... Things started coming together, it was great fun, but by the end of the day I was knackered! we all were!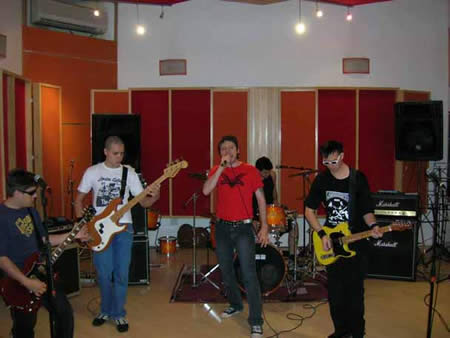 Practice, practice, practice! Lambrusco Kids and Olga, Sao Paulo. >>>
We weren't too knackered to go out drinkin' though! After another soak in the Jacuzzi, gloat gloat!, were met up for a great night out in a great city!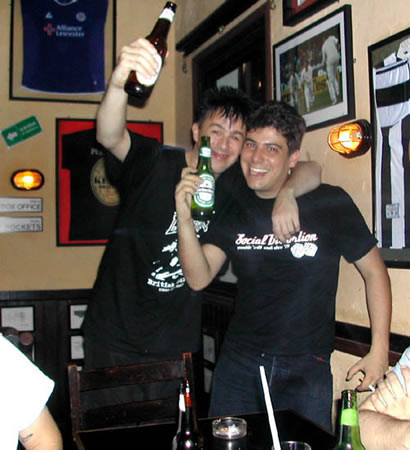 Olga and Marcelo (Lambrusco Kids great guitarist) down the pub! >>>
After another full days rehearsals we were ready for the first show in Sao Paulo.
On November 14th we headed for Hangar 110, the soundcheck was awful, the sound system was terrible, the monitors and electrics, and my amp were ALL awful! I was depressed, and red hot! now around 35c, I wanted to get back to the hotel ASAP! after brooding in my hotel room for 2 hours we headed back to venue for the actual gig, by the this time the venue had sold out and was even hotter than on the afternoon! a nice venue actually, with a capacity of 850.
After getting changed in the boiling microscopic dressing room I sat depressed and nervous as hell! The Lambrusco Kids took the stage and played great, how could I follow that!?
After an introduction from Marcio, the singer, I was on! WOW! what a crowd, Thank you!!!! cheers for making me feel sooooooo welcome, you crazy lot, the night rocked! cheers, The Lambrusco Kids did me proud, thank you to them for being so good and such lovely guys, despite various electric shocks and monitor problems, I was no longer depressed! we loved every minute of it, certainly a night to remember!
Here's a few pics from the Hangar 110 gig....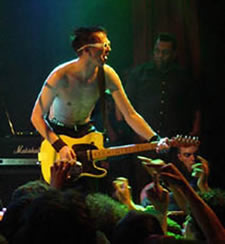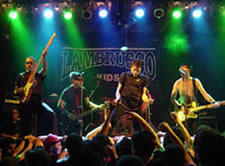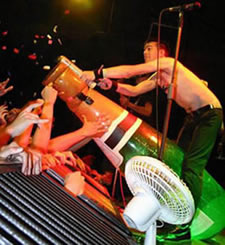 Fantastic to meet up with you lot after the gig too, cheers for waiting around to say hello!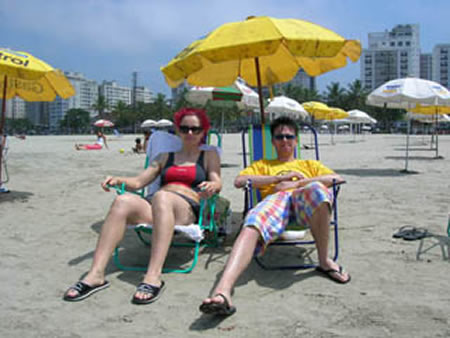 So... Next day, we headed for the beach! A well earned rest we thought!
Here's a pic of me and our guitar tech Matzi, soaking up the sun! jealous!? >>>
After two days of hard work on the beach, we headed back to the city!
I was anxious about the next show, so I played through the set a few times in my hotel room!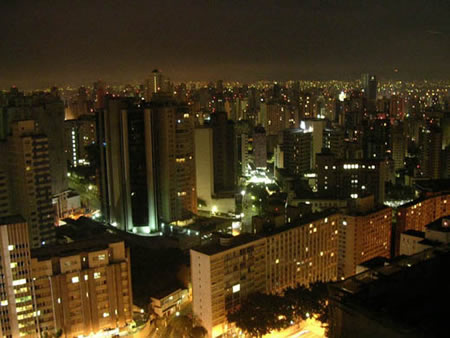 Oh, by the way.. this was the view from my hotel window of the small village of Sao Paulo...! >>>
That night we all met up down the pub again! ...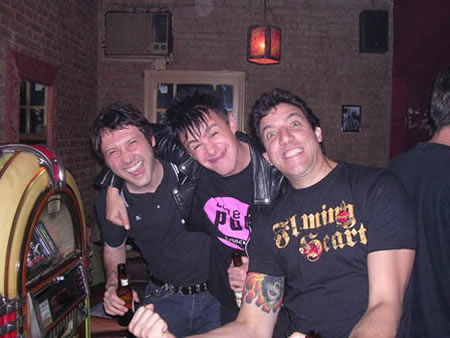 Marcio, Olga, Paulo, a quiet night in, the pub! >>>
Of course you've guessed it, I spent most of the next day in bed feeling worse for wear! but I did manage to force meself to play through the set again!
An early night was had by all!
The next day we were all back in the van and heading for Pirassununga, it was becoming hotter each day, and being in a van for over 4 hours with no air-con, wasn't so much fun!
But still, it was nice to see the lads again, and to be doing another show!
After a great afternoons BBQ we headed off to our hotel, in this small quiet county town 1000 miles from anywhere!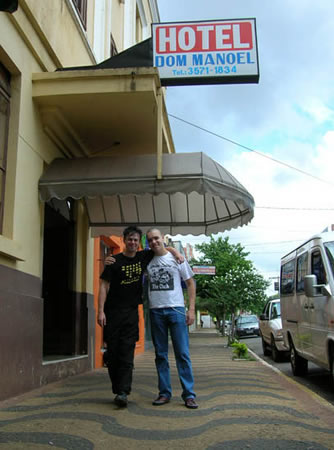 Here's me and Lambrusco Kids bassist Rodrigo (did I spell that correct!?) >>>
Tonight was a late gig, or should I say, an early one! around 1.30am in the morning, so after a soundcheck riddled with more electric and sound problems, in an interesting venue, rather like a country and western line dancing hall! with a stage hardly big enough for the drum kit! we headed back to the hotel for an hours kip!
The night was getting hotter, no air con in the hotel, we were tired, and the mosquitoes were out in force!
On the way back to the venue, I actually fell asleep in the van, god it was sooo hot!
I sat in a dressing room surrounded by windows in full view of the crowd! it was boiling and we hadn't even started! the dressing room was full of mosquitoes and various other creepy crawlies!
Anyway... there was a show to do! the only way to the stage for me was around the back of the venue and through a door behind the stage, this is where I was the feast of a million varieties of flying insects, as I stood with my guitar when the Lambrusco Kids rocked through their set!
Meantime, as I was waiting, Matzi was busy having her hands almost blown off with electric shocks from the only cooler fan we had!
The place was dripping with water, the humidity was crazy, BUT... I was on, GREAT again to see you lot, and a BIG thank you to you all, with no room to move, and loadsa sound problems, we rocked on! after a having a few days off, and drinking at the BBQ on the afternoon, then playing in 90c! we were rough, we couldn't breath, HOWEVER..we loved it, it was a killer! but so nice to meet up with ya all after the show. THANK YOU! the moisture resulted in my yellow Telecaster dying! along with the rest of us! but we had a great time!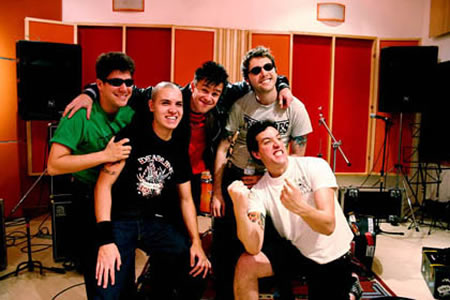 Too exhausted to even have a last night party, we headed for our beds! It was around 5am now! After a few hours sleep in the boiling heat, we were back in the boiling van! Heading for the airport! Its been sooo nice being in a warm climate, but now we just wanted to be cold again! After a sad and emotional farewell to everyone, we checked in our luggage and headed to the airport pub!
As we drank we reflected on our time in Brazil, though we were exhausted of being so damn hot, poor Matzi sitting with a hole burnt through her thumb from the electric shock, and me counting the insects bites on me legs, all we could really think of was what a sincere and lovely bunch of guys The Lambrusco Kids are, we had become friends, we had worked and played together, and we were missing them already! In fact, everyone we met in Brazil was just so friendly and warm! You lot at the gigs were wild! But at the same time, one of the most friendly welcoming audiences ever, thank you to all of ya for coming to the shows! Can't wait to see ya again!
Thank you to The Lambrusco Kids for everything, a special time, we will never forget.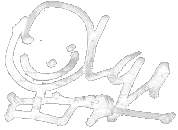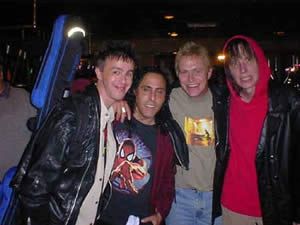 November 7th 2005
Hey you lot!
Hope you all had a great Fireworks weekend! I went to the Battersea Park firework display, here in London, faaantastic!
So, this Thursday I leave for Sao Paulo! and I cant wait! First of all I have to fly from London to Zurich, there I will meet up with Matzi, my guitar technician, she will have 50kg of guitar tuners, strings, plecs and whole loada electronic stuff. I will have me guitar and a pair o' sunglasses! We will take loadsa pictures for ya, and we will be making a video diary also!
On our arrival we will have the day to relax, then the following two days are solid rehearsals! So to you lot who are coming to the shows, look forward to seeing ya! To the rest of ya, I will be updating this section on my return, around 22nd November.
Oh, don't forget that The Dickies tour starts later this month! I will be at a few gigs for sure!
Here's a picture taken at my very first gig with The Dickies in Hollywood 2 or 3 years ago, with Stan Lee, Peter (from The Adicts) and Leonard.
Take care
Speak to ya on my return.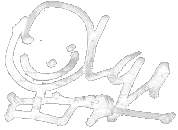 October 28th 2005
Drunken night in London!
Hey you lot! hope you are well and happy!
So, what's been happening...
Well, first off I just received a copy of the new CRASHED OUT album (pearls before swine), well worth checking out, I will mention the track "Murder on Sunset Strip" fantastic! the album is out now on Captain Oi. Lee (guitar player) is one of the best new punk guitarists around, look out for him! Oh, I forgot to mention, I am playin guitar on one track! "Freakshow"!
Anyway... After spending two solid days of learning The Lambrusco Kids set, when Ian (The Dickies merchandiser) invited me out for a pint last night, I gladly accepted!
Little did I know who we were gonna meet up with in Camden...
None other than, Brian James and Rat Scabies from the Damned! Dave Treganna from Sham 69, Barry Masters from Eddie and the Hot Rods ... WOW! I was soooo nervous, so I had to have a few pints to clam me nerves!
8 pints later and the night was rockin! a great time was had by all!
Ian, Simon (from Sunderland) and myself ended up back at my flat around 4am!
Now I sit here on to my 3rd Alka Seltzer, feeling as rough as hell! but having enjoyed a nice relaxing evening, in the pub!
Wow, I have met some heroes of mine in the past week!
Here's a few pics from last nights do! Now I must get back to learning the set for Brazil, god I feel ill!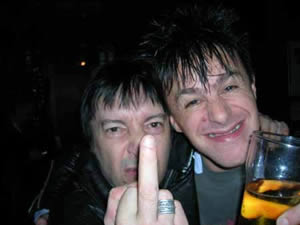 Dave "KERMIT" Treganna and Olga, down the pub! >>>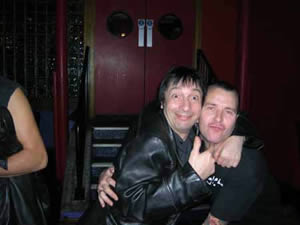 Dave and Ian Maddison - The Dickies maddest ever merchandiser! >>>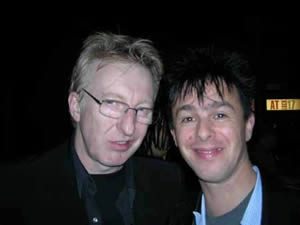 Rat Scabies and Olga. >>>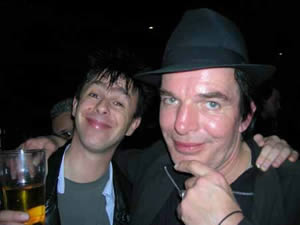 Olga and Brian James, he uses a Telecaster and a Marshall JCM 800! Sounds perfect! >>>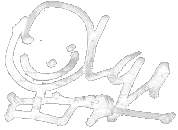 October 24th 2005
THE SPANISH SHOWS! 21st/22nd October
Good day to you all! I hope you are all fit and well! Monday morning is here and the start of a new week, I look forward to what it brings!
So, we all arrived home late last night from Spain, we had a greeeeaat time, THANKS to you lot for turning up at the shows!
After arriving in Madrid on Thursday night we headed off for a Spanish meal in the centre, great food and great to meet up with everyone again! After eating and talking too much we decided to head back to the hotel for much needed zzzzz's!
Suddenly it was 7am! nice to see everyone down at breakfast, fresh and ready to rock! 9.30am and we were on the road to Aviles, about a six hour journey, could have been worse, the time passed quickly because we had loads to talk about, having had 6 weeks off!
We arrived at the venue for soundcheck around 3pm, we ran through a few numbers and it was nice to play again, I wasn't happy because I had the wrong guitar amp, an awful JCM900, I HATE 900s!
Anyway we headed off to the hotel/dinner with me in a bad mood, but looking forward to the show!
We returned to the venue just before doors opened, where I was delighted to find that the promoter had found me a JCM 800! I was happy! very happy!
As usual, because we hadn't had a gig for a few weeks, we were rough, you lot were very nice of course, I wish we could have been better, but the guitar amplifier sounded great!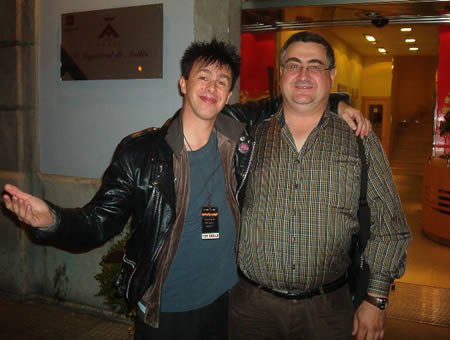 Back at the hotel, Havier (pictured >>>) our long time northern Spain promoter, informed us that GLEN MATLOCK ( Sex Pistols bassist) would be playing before us the following night!!!!!!!!!!!! GLEN MATLOCK! Jesus! We were speechless!!! GLEN MATLOCK! I was gonna meet one of my heroes, wow, Glen Matlock!
I couldn't sleep, along with Koen, Our merchandiser, we sat up drinking and talking about (with HUGE excitement) the chance of meeting GLEN MATLOCK!!
So, the next day we arrived in Santiago, a sports hall with the worst acoustics next to the Grand Canyon!
Again, the wrong guitar amplifier was delivered, another JCM 900, the excitement of meeting Glen had gone, to have the wrong amplifier for me is the worst thing, I was depressed again. We had dinner at the hotel, where Havier informed me that there was another amplifier coming before doors opened, I was eager to check it! Then, in walks Glen Matlock and the guys from his band the Philistines, what a lovely friendly mature bunch o lads, Glen wasted no time in introducing himself to me, wow, I was star struck, however, I just wanted to get back to the venue to try the new guitar amp! The amp wasn't a JCM 800 (the one I wanted) but a 1977 JMP master volume Marshall, it was a hell of an improvement on the JCM 900, though, so it was checked and put in place! I wasn't on quite so much of a downer!
So stage time for Glen Matlock and the lads was upon us!
The band were good, tight and a real English Rock n Roll band, great to hear some Sex Pistols numbers too, wow!
Glen Matlock should have been the headline band in my eyes, he is a legend indeed.
Having said that, we were not so bad ourselves! We really enjoyed it and Bernie (our sound man) done us proud!
You lot were great. Thank you for the reception! We really enjoyed it! THANK YOU AGAIN!
Back at the hotel we chatted with Glens band for a while before heading off to bed! it was now around 5am! Spanish on stage times are really really really crazy! But I love it still!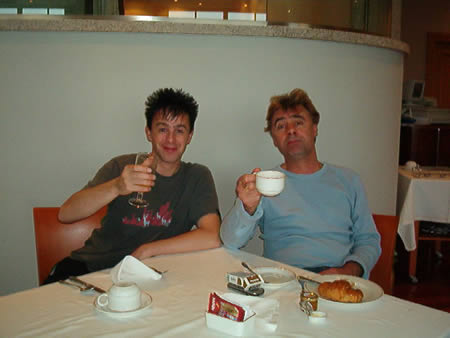 Can you believe I had breakie with Glen Matlock! >>>
I am so flattered that he wanted to talk with me, I had a lovely morning with him and the other guys too!
I cant believe that Glen lives only half a mile from me here in London!
THANK YOU to him and the band for being sooo nice, hope to meet up with ya soon for a drink or two for sure! Cheers.
I will have a selection of on stage pics from the Spanish shows SOOOOON!
WHATS NEXT!?
The next two weeks sees me learning the Lambrusco Kids set for South America! there is a lot to learn before the rehearsals in Brazil in November!
Ciaron will have the set list for ya in the November website updates! meantime I have been told that a further show in Brazil has also been confirmed with me as the Lambrusco Kids guest... the two confirmed shows are:
14th November 2005 HANGAR 110 Sao Paulo Brazil
19th November 2005 ESPACO COLONIAL Pirassununga Brazil
We are hoping for confirmation of a show in Argentina also! news soon!
Thank you very much for the mountains of email questions on the ASK OLGA section! I am busy answering them now! they should be up for ya within a week!
Speak soon!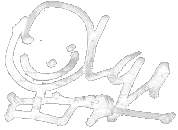 October 19th 2005
Hello again you lot!
So, tomorrow (20th) we all fly to Madrid in Spain for the final two shows!
We have a looooong drive on Friday 21st to Aviles, this is actually the last proper full show, next day is another long one, to Santiago on 22nd, this one is a festival, and it promises to be a good one!
I am really lookin forward to meeting up with Dave and Tommy, and our great road crew! I will take the opportunity of dedicating this up date to Ernie (Our Lighting tech), Matzi (Our Instrument technician), Bernie (Our sound engineer, driver, tour manager!), and Koen (Our Merchandiser).
If it wasn't for these people Our Last Tour? couldn't have happened, great workers, and most of all great friends and people, THANK YOU to them.
I will also say a personal THANK YOU to Dave and Tommy too! Good Luck with all your future plans lads, xxx.
We will have more than a few drinks after the gig in Santiago for sure!
Here's a few pics of our crew for ya! you may have spotted them at THE TOY DOLLS shows.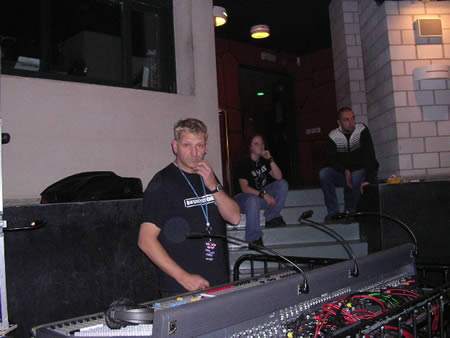 Bernie. "Now then, where is the 'on' switch!?" >>>
Koen. "Just a bit o Dutch courage before I try and sell some T shirts!" >>>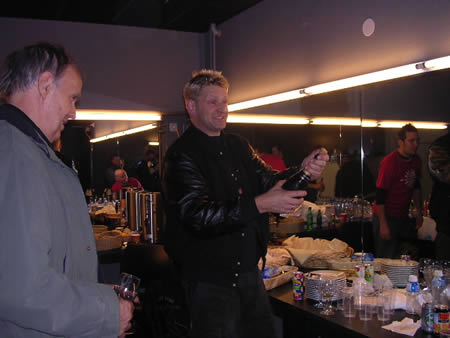 Ernie and Bernie. " Oh, go on then, I will have a small one, if you get the top off!" >>>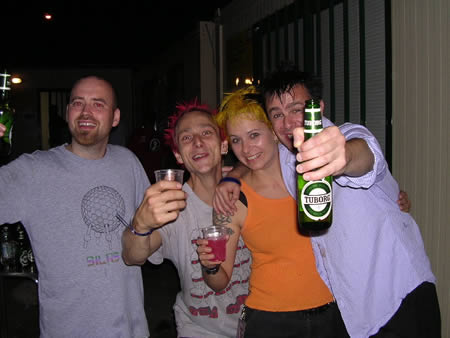 Tim (Tommy's mate). Koen, Matzi, Olga. "Cheers!" >>>
So! See some of you lot in Spain at the weekend! We are really lookin forward to it!
THANK YOU again.
As you know, I will be away for a few days at the gigs! but I will be doing an update early next week on my return!
Take care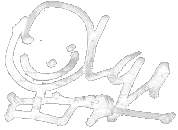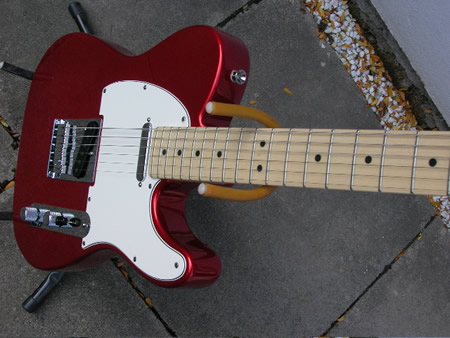 October 17th 2005
Hey! Its 10pm and way past my bedtime! I am up training at 5.30am tomorrow, However... I have finally sorted how to get photographs on here! wow! I hope Ciaron is proud o me!
Anyway, as promised, here's a pic of my brand new guitar! A Fender USA chrome red Telecaster with maple neck.
Isn't she beautiful!? what ya think? I know I am a sad swine, but I love this guitar!
The bridge pick up has to be changed to a Seymour Duncan Alnico, and the frets filed down, then I will happy!
Anyway, I have so many photos to show ya all (not of me guitar, don't worry!) I will get some on here in a day or two, along with the set list for South America, its a wild one!
See ya soon!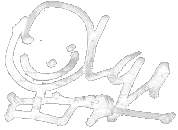 October 16th 2005
A very good morning to you all from London! just a quickie to say I have answered the first batch of Email questions from you lot, Ciaron will have them online later this week! Eventually we will have the answers up a lot quicker! Ciaron is now teaching me how to do do it meself, so then he can concentrate on the monthly updates.
I will have pics of me new guitar for ya within a day or two! plus a few other photos too!
Anyway, just thought I would let you lot know I haven't forgotten about ya!
Guitar practice now, then I am off to watch the new Wallace & Gromit movie!
Keep checkin in, and keep the questions comin!
Take care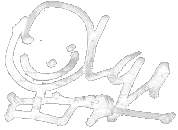 October 12th 2005
Good day to you all! First off, I wanna say cheers for all your email questions, I will be answering them in the FAQ section within a day or two! Bring on the questions!
I am still busy learning how to update this OLGA TALKIN section, not as easy as it looks! so please give me a little time to get used to it, I am still learning how to add photos too! so I am sorry about the lack of them in this update!
I will take this time to say a HUGE thank you to Ciaron for all his patience and tuition!
Thank you to you lot too, for all the kind emails wishing me luck with this new section! cheers!
New guitar!
So today I pick up my new guitar! A Fender USA Telecaster, red with a maple neck! I cant wait! been on order from America for while now, and soon it will be in my hands! Yeah, ok, I can hear ya say, what's the point of a new guitar when the gigs are coming to an end!? Well, I am a guitar player and always will be, I hope to play for life in different bands, and anyway ...I just wanted a new guitar! I have had the yellow one for 30 years! wow! of course I will never get rid of it. I will be using the yellow telecaster in Spain at the forthcoming shows, so ya can say goodbye to it there! though I pick up my new guitar this afternoon, it has to go straight to my guitar guy to get the pick up changed to a Seymour Duncan and the frets filed down to my preference, then it will be ready to rock, if I can learn how to add pics this week, I will show you lot a photo of me with it! yawn ... I know... Next subject.!
I will have more details of the guest appearance/s I will be making with the Lambrusco kids in South America very soon, fingers crossed for 2 more shows in Argentina along with the Sao Paulo show. I am so happy as one of the cover versions we will be doing is Peter and the Test Tube Babies, Banned from The Pubs! a classic indeed!
Anway... I am off to study how to get photos on this section, got looooaaaadsa them to show ya!
Take care, and thank you.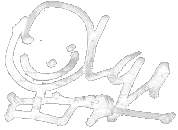 October 6th 2005
Hey ya all and welcome to Olga Talkin!
I will be updating this section on a regular basis, so keep checkin in incase you miss anything!
Firstly, why end the message board?
A number of reasons to be honest! The main reason is that the gigs are almost about to finish, so we thought it was time for a change. Another reason was that the message board was becoming just a playground of insignificant threads! What's the opposite to giraffe? etc! and messages that had nothing at all to do with the band! Don't get me wrong, it was a nice meeting place to exchange numbers/addresses etc. that's fine, I believe there is an unofficial message board now, where you can still do that! We had been planning this for some time, and we thought now was the best time!
If you check out
The Wildhearts
website you can see there is no message board, but there are regular updates from Ginger and replies to questions on a regular basis too. Everything is related to the band itself.
Now, having said this, we don't want to just do an updated version of the FAQ section each month! The plan is to answer loadsa your questions around once a week, and the name of the person who the question is from will be highlighted next to the question. This will take a little time, as Ciaron has to arrange everything to make it possible!
Also, this section, within a few days, will be updated on a regular basis.
I have tried to answer as many questions as possible on the old message board, but I simply don't have the time to reply to everyone! Also, I found it impossible to reply to the 100s of PM's I was receiving each month!
Do not worry, I will replying to tons of emailed questions, and I will be very active on this Olga Talkin section every few days, along with photos too! Also Ciaron's updates will be well worth waiting for too! (as they always are!) It may take a bit o gettin used too, but we believe it will be we worth it!
I will answer ya, don't worry!
Right, down to business...
Just to put the record straight regarding South America, unfortunately the South American promoters didn't manage to come to an agreement on THE TOY DOLLS playing there, so naturally, rather than keep you lot waiting, when the Lambrusco Kids kindly offered me a guest appearance with them, I jumped at the chance!
I am really looking forward to it! and as Ciaron says, its not what I would usually do! I cant wait. It will be a Lambrusco Kids gig/gigs with me guesting on guitar/vocals doing a selection of TOY DOLLS songs with them, as well as a load of punk cover classics!
Its not a TOY DOLLS show of course, but something special and different! Check this months updates for details!
I went to see 3 Colours Red last show last month.
I ventured out of my flat at 7.30pm (I recorded Coronation Street!) and got the 274 bus to Islington Academy. The night was special, 3 Colours Red final show and the YoYos together!
Though it was a dreadful rainy night, the venue was packed! I arrived when another band was playing, sorry I didn't catch their name, but it was a bit loud and noisy for me, so I came outside again where I bumped into me old mate CJ from the Wildhearts, really nice to see him, we had a few beers when in came another mate Chris from 3 C Red, so a few more beers were consumed before the YoYos took the stage, they were very good, an even better line up than a few years ago! Danny was lookin good and singin better too, Tom also, excellent.
I had never seen seen 3CR, and I didn't know what to expect! The first thing I noticed was the fantastic sound, congrats to the sound engineer that night, it was perfect. A great show too of quality 3 Colours Red music, I say that coz I cant put it into any bracket! a great singer/songs and a great performance. Sad that it was their last show, so pleased I caught it.
After the show I caught up with all the lads back stage and drank too much! Outside after the show I was gonna go back to Chris's house with Danny, but I left feeling ill and throwing up around the corner! Rock n Roll life style is no good for me! How they do it every night, I don't know! I arrived home at 3am, and was up again training at 6am! It nearly killed me!
I did have a bit o drinking practice 2 nights prior to the show, when THE TOY DOLLS book author, Ronan, came down to London for a few pints! we went to every bar in Piccadilly, had a great Chinese meal in China town, then headed off for a few more pints! How did I get home? Great to see him!
Cheers for reading this and cheers for still being there, I never thought I would be writing this 26 years ago!